systest.pgm
input file
systest: 30x30 System Test Map (enlarged at left). All entries were run against this small map to insure things were behaving properly. Weekly results were mailed to all participants.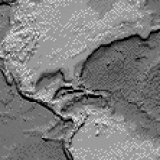 a2b.pgm
input file
a2b: 160x160 relief map of portions of North and South AMerica. The trip from Alaska to Brazil (upper left to lower right) and then the return makes for the first challenge. The maximum round-trip length is 800 moves.
BEST SOLUTION SHOWN HERE.

hand.pgm
input file
hand: 141x141 X-ray provides the second problem on the SCENIC TOUR POTM. The start point is near the tip of the thumb. For this one, we allow up to 1000 moves for the round-trip.
BEST SOLUTION SHOWN HERE.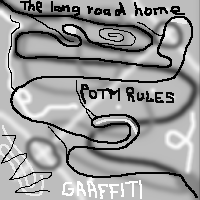 graffiti.pgm
input file
graffiti: For the final scenic tour, we'll use a graffiti filled map. Coincidentally, this 200x200 grid contains a winding road which is almost all zero-altitude. The eye can pick out the winding path, but I don't know which programs may be able to. I also don't know if minimizing that first path will yield the best score overall ... we shall see! For this one, the round-trip path can be up to 3500 moves. As it turned out, because of the large number of moves that are allowed, the score of this grid tends to be much larger than that of the other two.
BEST SOLUTION SHOWN HERE.